"In March 2019 I travelled with Dentaid to South Africa to volunteer my time as a dental hygiene and therapist to a small community in need.
After a gruelling 28 hour journey and landing in the South African city of George we travelled to a local community called Melkhoutfontein. This area was originally a waste grounds and was transformed when people began settling there by a once local charity (now recognised globally) called Dreamcatchers.
We travelled as a small team, 3 dentists, 1 oncology nurse and myself a dental hygienist and therapist. We stayed within the local community in "homestays" hosted by local "Kamamma's"- who could not have been any more welcoming if they tried.
On the first day arriving we set up our "clinic" – a local community hall often used to hold functions. With no clinical equipment other than what we had brought with us in our suitcases, we were extremely limited with the treatment we were able to provide. Our main aim was to relieve dental pain and to educate the local community as much as possible. Each patient was given a full examination on arrival – this being the first dental exam many of them had ever received. The treatment at the clinic ranged from oral hygiene instructions, fillings and extractions.
The main challenge we had was educating the local community – sugary sweets and drinks were in high demand and easily to purchase from local shop, lollipops and Coca Cola being cheaper than fruit and water, it was a whole mind-set we were trying to change. In Melkhoutfontein the main speaking language was Afrikaaans – this was an extra challenge we had to face.
After 2 weeks of working and living within the local community we headed home, with a new perspective on life, a great relationship with the local community and friendships that would last a life time. Although only early days we have set the foundations and done great work within the community of Melkoutfontein seeing a total of 255 patients for treatment and assessing their dental needs, extracting 234 teeth and placing fillings in 124 teeth; on top of this we held oral health education classes in school to 260 people."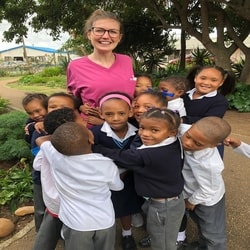 We at Malden Dental Care are very proud of Tash who took her own time and expense to donate her excellent skills to those who need them most. Well done Tash.
Categories: Dental News
Tags: Dentaid, Teaching, Dental Education,Charity Work,Community